Creating Beautiful Native Communities
Saturday November 9, 2019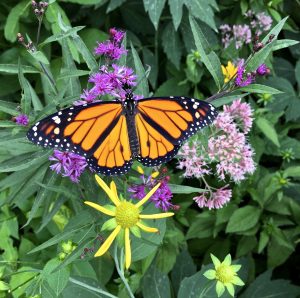 Round Lake Beach Cultural and Civic Center
2007 North Civic Center Way
Round Lake Beach, IL.
Wild Ones 2019 Conference,

Creating Beautiful Native Communities

, presented by the Lake to Prairie Chapter. Our chapter's mission is to educate, which we do with our monthly meeting at the Fremont Public Library, covering a wide range of natural landscaping and environmental education topics. Bringing educators together in one place at this conference will provide a wealth of information for people new to the native plant idea as well as the practiced native gardener.
Gardening is a very enjoyable hobby for many. It's wonderful to look out our windows or walk down the street and see the beauty in our neighborhoods and communities. In this ever changing world with habitat loss a daily headline it is more important than ever to have a garden – not just any garden, but a native plant garden. Each and everyone of us can do our share to make a difference and create a garden habitat that supports biodiversity in our yards.
This conference will focus on promoting the use of natives to achieve the natural garden you desire. Each presenter will cover a variety of simple ways to add biodiversity and beauty to your home landscape. Whether you are a beginner or an experienced gardener, you will go home with helpful hints, proven gardening practices, plenty of inspiration and many resources that will assist you in becoming a successful native plant gardener.
"If suburbia were landscaped with meadows, prairies, thickets or forests, or a combination of these, then the water would sparkle, fish would be good to eat again, birds would sing and human spirits would soar" – Lorrie Otto